For dogs with behavioural problems
Do you have a new dog in your life and want an assessment of their behaviour and/or training needs? Is your dog aggressive, fearful or reactive towards other dogs or people? Are you having problems with his behaviour that are impacting the quality of your life together or that impact the quality of your dogs life? 
Darcie is a Problem Behaviour Specialist with more than 22 years of experience rehabilitating dogs with behavioural issues and can help you get your dog and life back on track again.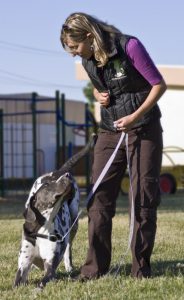 Topics Covered in Behavioral Counselling Include:
Building confidence in fearful dogs
Overcoming fear and trauma
Behavioral assessment of a newly adopted dog
Introducing a new dog to existing pets in the home
Helping a newly adopted dog settle in to their new home and environment
Aggression towards dogs or people
Leash reactivity towards dogs, people or other environmental triggers
Teaching tolerance of nail trims and grooming
And more…
Consultation (60 minutes): $150 + GST
Training package (pre-purchase a package of 4 – 1 hour lessons): $560 + GST
Lessons area only available in the Sidney & Saanichton areas at this time.
Darcie is currently fully booked and not taking any new clients at the moment. Feel free to contact us to be added to the waitlist but note that we may not be able to accommodate everyone.

Cancellations & Missed Lessons
Payment for lessons is due at the time of booking.
24 hours notice is required for the cancellation of an appointment or payment in full will be retained.
Lesson fees are refundable up to 24 hours prior to your lesson.
When purchasing a Training Package, all 4 – 60 minute sessions of training time must be booked and completed within 6 months of your first session or lessons will be considered forfeit.