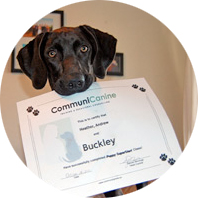 Puppy SuperStart Program
For puppies 10 weeks to 5 months old
Give your puppy a SuperStart in life with this comprehensive class designed to cover the most important aspects of raising and training a well adjusted, sociable dog.
Class curriculum includes:
Socialization with a variety of people, puppies and unfamiliar obstacles
Introduction to Sit, Down, Come, Leave-it and more
Basic body handling to familiarize your puppy with having nail trims, being groomed and examined by the vet
Discussions on preventing and eliminating basic problem behaviours such as jumping up, nipping and barking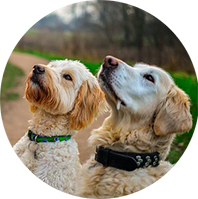 Mind Your Manners
For dogs and puppies 5 months and older
This class teaches the most important commands your dog needs to know to be a well mannered canine citizen. It is perfect for beginners of any age and also to build on foundation skills your dog already has.
Class curriculum includes:
Leash manners
Sit, Down, Come, Stay, and Leave-it
Go to Your Mat
Settle
Responding to commands when distractions are present
Discussions on prevention and elimination of some basic problem behaviours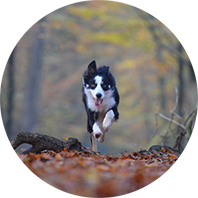 Total Recall
For dogs of any age
You're going to have a ton of fun with your dog as you teach them to turn on a dime while you when you call them to come. You get out what you put in to this class, so spending a few minutes each day working with your dog is essential to making progress. Bring your running shoes! 
Class curriculum includes:
Building a solid understanding of the come command
Learning to come away from and past a variety of environmental distractions, even when your dog is a hundred or more feet away from you
Learning to come when called despite distractions like getting treats from a friendly stranger
By the end of the program, your dog will be able to come running to you through a crowd of dogs and people when you call them!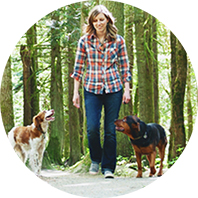 Training On The Trail
For dogs and puppies over 6 months of age
This class takes the skills you and your dog learned in Mind Your Manners and practices them in a real world setting.
Class curriculum includes:
Establishing solid verbal control of come, leave-it, let's go, sit and stay
Working towards off leash freedom
Reinforcing leash manners and introducing off leash walking
Teaching your dog how to sit or lie down at a distance from you on the trail for additional off leash control
Practicing trail etiquette and appropriate behaviour around other dogs, people and horses encountered on the trail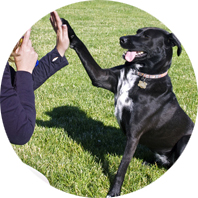 Fun With Tricks
For dogs and puppies of any age
This class will show you just how smart your dog really is! You'll learn how to use effective timing and rewards to make teaching your dog each trick simple, successful and a lot of fun for both of you. All classes are taught by our Certified Trick Dog Instructor, April.
Class curriculum includes:
Weave through your legs
Belly Crawl
Walk Backwards
Wave "Hello" or "Goodbye"
Play Dead
Plus many more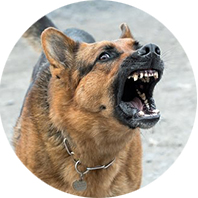 The Anti Social Club
This is a class for dogs who are aggressive or reactive towards other dogs. The Anti Social Club is truly the only club in town you want to lose your membership to!
Class curriculum includes:
Teaching your dog to relax and feel comfortable around other dogs
What to do in tricky situations, like when off leash dogs approach unexpectedly
Stress management techniques to help you stay calm
Learning how to clearly read and understand your dogs body cues and use them as a guide in your training, including being able to anticipate reactions before they happen
Providing a supportive environment to promote confidence in both you and your dog