For dogs and puppies over 5 months of age
This class uses the skills you and your dog learned in the Mind Your Manners class and practices them in a real world setting.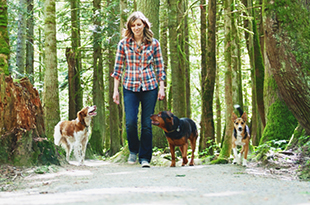 Class curriculum includes:
Establishing solid verbal control of come, leave-it, let's go, sit and stay
Working towards off leash freedom
Reinforcing leash manners and introducing off leash walking
Teaching your dog how to sit or lie down at a distance from you on the trail for additional off leash control
Practicing trail etiquette and appropriate behaviour around other dogs, people and horses encountered on the trail
Thank you for the class. We enjoyed it and are now confident enough to go off-leash in several parks! I think Docko is enjoying the trust.
August 2021

Wednesday, August 3rd @ 6:15pm
Where: Centennial Park (Saanichton)
Duration: 5 classes – 50 minutes per class
Cost: $225 + GST
Class sizes are limited and will be filled in the order that payments are received. Class fees are non-refundable.
Cancellations & Missed Classes
Full payment required with class registration to confirm your spot. Payment is non-refundable.
Class fees can be transferred to a future class or service provided at least 72 hours notice of withdrawal is given before the start date of the class.
Female dogs cannot attend the class if they are in heat. If your dog is due to have a heat during the program, wait until after it is finished before signing up as no refund or credit will be given for missed classes.
If the class you want is full, please email to be added to the waiting list.
All participating dogs must have proof of their vaccines.