For dogs of any age
This is by far one of our most popular classes!  You're going to have a ton of fun with your dog as you teach them to turn on a dime when you call them to come. You get out what you put in to this class, so spending a few minutes each day playing the games you learn in class is essential to making progress each week. Bring your running shoes!
*Participating dogs must be comfortable interacting around dogs and people. This class is not suitable for dogs with aggression or reactivity.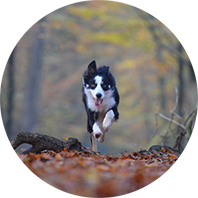 Class curriculum includes:
Building a solid understanding of the come command
Learning to come away from and past a variety of environmental distractions, even when your dog is a hundred or more feet away from you
Learning to come when called despite distractions like getting treats from a friendly stranger
By the end of the program, your dog will be able to come running to you through a crowd of dogs and people when you call them!
July 2021
Friday, July 23rd @ 10:30 am.
Where: Glanford Park on Kenneth Avenue, in Victoria
Instructor: Darcie
Duration: 5 classes – 50 minutes per class
Cost: $225 + GST
Payment in full is due at the time of registration. Class fees are non-refundable.
SOLD OUT
Cancellations & Missed Classes
Full payment required with class registration to confirm your spot. Payment is non-refundable.
Class fees can be transferred to a future class or service provided at least 72 hours notice of withdrawal is given before the start date of the class.
Female dogs cannot attend the class if they are in heat. If your dog is due to have a heat during the program, wait until after it is finished before signing up as no refund or credit will be given for missed classes.
If the class you want is full, please email to be added to the waiting list.
All participating dogs must have proof of their vaccines.