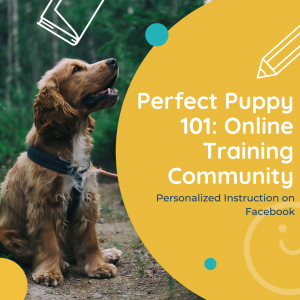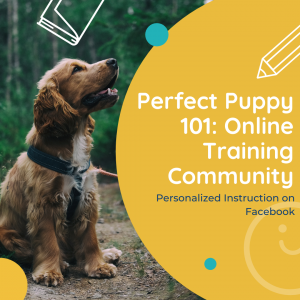 For puppies 8 weeks to 6 months old
The Perfect Puppy 101 is an online course designed to help you raise and train the perfect puppy, especially during this unusual time of social distancing. If you are self isolating, don't have access to in person group classes or simply want a course that works with your unusual schedule, this program is for you. The only things you'll need in order to participate are a Facebook account and your puppy!
You and your pup will learn:
Foundation skills like sit, down, come, leave-it and more
The best way to socialize your puppy so that they develop into a confident, well adjusted dog
Successful housetraining strategies
How to stop your puppy from biting you
Tutorials on body handling and grooming to prepare your pup for the vet and groomer
Simple solutions on how to prevent problem behaviours before they even begin

What you'll get:
Exclusive membership to a private Facebook group
20 video training tutorials plus 4 pre-recorded Facebook Live Q & A's so you'll always have something new to work on
Anytime access to the course videos. The program is self-paced so you can watch the videos anytime of the day or night
Printable PDF handouts on puppy socialization, housetraining, preventing separation anxiety and training tips
Instructor feedback. Post videos in the Facebook group and we'll provide feedback to help ensure you're on the right track
Two full months access so you have lots of time to work through the material and get the help you need
We also welcome kids 8 and up to participate

Cost: $125 + GST
If you have more than one dog in your household you'd like to participate with and get the trainers feedback on, a separate registration form and $50 fee are required for them.
At this time our training programs are only available to Canadian residents.
Refund Policy
Program fee is non-refundable and non-transferrable.